Download
Free trial version
Features
Generalised Newtonian and Viscoelastic models
Temperature dependences
Wide variety of material functions
Automatic parameters fitting
Dynamic chart
Import/export curves
»
More features...
A Rheological laboratory on your computer...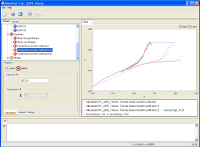 RheoChart is a charting program to analyse the behaviour of a large range of differential viscoelastic models. In a few clicks, the response of models such as the Giesekus, PTT or the DCPP models can be analysed in a dynamic chart.
RheoChart also helps to determine the parameters of a model by fitting the model response to experimental data. The parameters calibration procedure is greatly simplified if not completely automatic.
A free trial version of RheoChart is available for immediate download.
If you are interested by the product, don't hesitate to